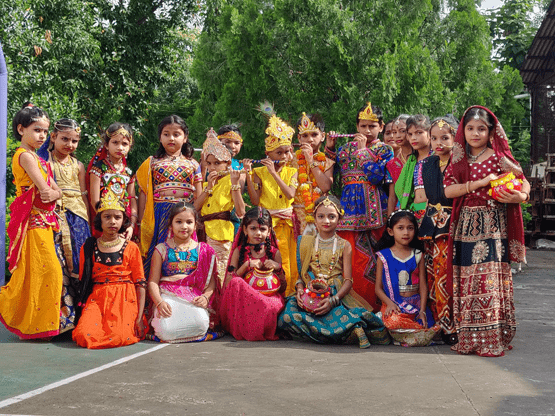 Janmashtami Celebration
Culture Education is an essential aspect of the curriculum. Understanding this importance and glorifying Indian traditions with the young generation, B.R.Internation School celebrates Janmashtami every year. Janmashtami also was known as Gokulashtami is an annual Hindu festival. It is celebrated as the birthday of Krishna. Krishna is the eighth avatar of Vishnu. It is observed in the month of Bhadrapada which overlaps with August and September.
The sole objective of Sri Krishna's birth and to celebrate Janmashtami is to free the Earth from the evilness of demons. The actual celebrations of Janmashtami take place during the midnight as Sri Krishna is believed to be born on a dark, stormy and windy night.
A fancy dress competition was held where students from grade 1st to 3rd were dressed up as Radha and Sri Krishna. It was followed by a mesmerizing dance performance and a couple of group songs by students dedicated to Sri Krishna. The students dressed up as Radha and Krishna, give a traditional touch to the entire celebration.
A matki decoration competition was held from grade IV to grade VII on that way. Prices go to the best matki decoration.
A house wise rangoli making competition was held from grade VIII to IX on that day and blue house got first prize in that.
At last There was a Handi hanging at the center of the campus and Radha-Krishna pairs danced around it. At the end of the program, the Handi was beaten by the Krishnas of grade IX.