Welcome to B.R. International School
B.R. International School

"Education is a necessary tool that opens the window to a bright future."

B R International is the one & only CBSE English Medium School in Dharampur, Valsad. This avant-garde School was established by the Bhaniram Thalsariya trust in 2011 with the motto of providing an overall development of the children of this region. The school provides its students a state of the art infrastructure for studies & sports & also has a separate pre-primary wing with well qualified & loving teachers for the chirpy & vivacious tiny tots. An ASME green certificate holder, B R International School has bagged awards by Confederation of Education Excellence in 3 different categories in 2017 & also is the proud recipient of the GLF award for best academics in the entire tribal region in 2017. The school provides education till secondary level & has applied for senior secondary affiliation to CBSE.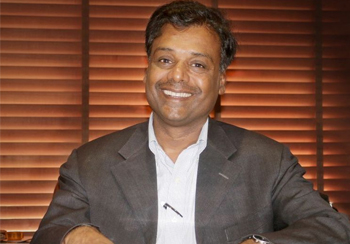 Chairman – Mr. Mahesh Choudhary

Education is more than a luxury; it is a responsibility that society owes to itself……… Robin Cook

We at B.R. International School, function with the aim to educate every child with utmost care & dedication to turn them into responsible & matured adults with a rational & balanced approach towards life, who work hard to achieve success & are equally considerate for fellow citizens.

The education is the training of both mind & heart. Intellectual education influences the mind & value based education influences the heart. The education which trains the heart is most important and the one which does not do so can be most dangerous.
Other than focusing on the prescribed syllabus, we focus on holistic development of our students by introducing sports, music, art & craft at an early age. These extra co-curricular activities make the young minds sharp & highly receptive & also inculcate compassion & sportsmanship in the students.
We groom our students such that when they step out they win over the world with their competitive spirit & leave a mark wherever they go. Our future lies in the hands of our kids; so we are not just grooming young minds, we are creating the foundation of our bright future as rightly said by American polymath Benjamin Franklin. "An investment in knowledge always pays the best interest."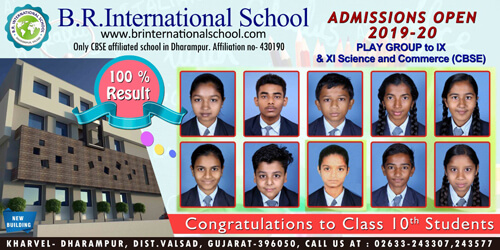 Admissions

Online Public College

B.R. International School believes in the principle that a good liberal education is a participative process, in which the child is a key participant. In keeping with the spirit of this principle, we will interact with the child in combination with a written exercise. This will facilitate us in understanding the child's readiness for the class for which you have applied. The Principal will interact with the parents & the child and on her approval parents can proceed with the admission.

Parents seeking admission for their child at B R International School are requested to visit us between 8 am to 2 pm with a prior appointment from Monday-Friday & between 8 am – 11.30 am on Saturday. You will get detailed information about the School, teaching methodology, facilities for students, admission procedure followed by the campus tour.
Gallery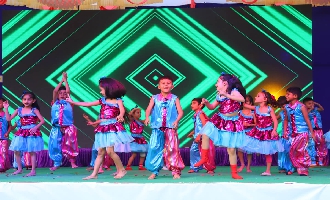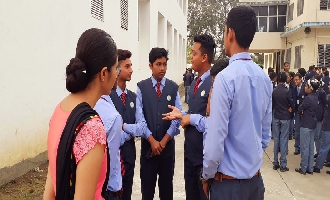 Top CBSE English Medium School
Our institution is a modern and goal- oriented English medium school in Dharampur , Valsad, with all streams such as arts, commerce, science affiliated to the Central Board of Secondary Education. Our school is essentially an autonomous private school offering classes leading to intermediate and higher secondary qualifications. BR international school has an appropriate record of students' sincerity and reliability towards studies. Our unspoiled atmosphere offers your ward a rare ambiance of experience, integrating a glamorous heritage and culture. There is a safe climate in our specialized school building for the students and faculties with ample and very well laid-out spaces with all the amenities at each level, including individual bathrooms for males and females. Our school has all the necessary facilities and requirements for children and is known as the best school in Dharampur, Valsad. We have physical, chemical, computer, and biology labs for professionals that are well equipped. The other divisions are also well prepared with a range of study aids to provide students with adequate teaching.
Features of our CBSE English Medium School
BR International School was founded in Dharampur in Valsad, Gujarat, in 2011 with a noble cause and strong commitment to providing education with a fusion of modem education from eastern and western ideas. We are one of the best schools in Valsad that started with a handful, and today we number quite a lot. Our creator's motive is to improve the child's emotional, physical, and moral faculties and teach students in such a way as to provide an incentive for the complete growth of personality and for the inherent potential of the child to appear in all walks of life. Moreover, compassion, hope, and the charity will be our driving power to dispel the darkness of sorrow and light the everlasting light of Truth, Goodness, and Beauty. BR International School is the first school in Dharampur. It is situated within a sprawling campus spread over 4 acres with unique Erocon teaching technique and preparation for the ASMERO Green School Initiative. We are endowed with a green and environmentally conscious campus that highlights innovative architecture and boasts world-class's academic and sporting facilities. Our research-based approach lays forth all the fundamental values of school education that combine further to create a welcoming atmosphere for our students, representing a perfect convergence of modern knowledge with timeless experience.
Why Choose Us the Best English Medium School
Our best CBSE School in Dharampur Valsad seeks to establish an educational center where awareness that is contemporary and profoundly embedded in culture is imparted to each student. We specialize in delivering hands-on training in a joyful learning atmosphere. Our school organizes frequent in-service teacher preparation activities and is invited to participate in academic conferences, training programs, and subject-related meetings arranged by other schools and organizations. As we are the only English medium school in Valsad, families of a high standard prefer us for their children. Our new teaching and learning offer time-honored mentorship with proven technologies to promote continuous creativity while communicating knowledge of modern world culture with India's ancient heritage focused on meaning. B.R. International School is committed to its mission of taking on the leading role in the twenty-first century in the educational growth process.Dharampur Valsad School is the best for the children to take teachings from the experienced and highly qualified teachers.